DMS 59 PIN TO 2XVGA SPLITTER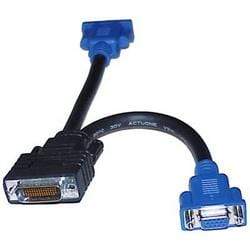 ---
MicroWorld DMS Male To 2X Female Splitter
DMS-59 (Dual Monitor Solution, 59 pins) is generally used for computer video cards. It provides two DVI or VGA outputs in a single connector. An adapter cable is needed for conversion from DMS-59 (digital) to DVI (digital) or VGA (analog), and different types of adapter cables exist. The connector is four pins high and 15 pins wide, with a single pin missing from the bottom row, in a D-shaped shell, with thumbscrews.
The advantage of DMS-59 is its ability to support two high resolution displays, such as two DVI Single Link digital channels or two VGA analog channels, in a single DVI-size connector. The compact size lets a half-height card support two high resolution displays, and a full-height card (with two DMS-59 connectors) up to four high resolution displays.
The DMS-59 connector is used by ATI, NVIDIA, and Matrox for video cards sold in Lenovo Thinkcentres, Viglen Genies and Omninos, Dell, HP, and Sun computers. Some confusion has been caused by the fact that vendors label cards with DMS-59 as "supports DVI", but the cards have no DVI connectors built-in. Such cards, when equipped with only a VGA connector adapter cable, cannot be connected to a monitor with only a DVI-D input. A DMS-59 to DVI adapter cable needs to be used with such monitors.
The DMS-59 connector is derived from the Molex Low Force Helix connector, which could be found in some earlier graphics cards. These ports are similar to DMS-59, but have all 60 pins present, whereas DMS-59 has one pin (pin 58) blocked. A connector plug with all 60 pins (such as a Molex 88766-7610 DVI-I splitter) does not fit into a properly keyed DMS-59 socket.
DMS 59 PIN TO 2XVGA SPLITTER
This product is sold with care by CShop, supported by the South African IT channel standard OEM warranty terms and conditions. Warranty upgrades are available for certain products, and is highly recommended. You may request to purchase an extended warranty by contacting the CShop sales team on:
(+27) 011 285 0975.
In-warranty repairs are carried out by the vendor's authorized repair centre and CShop will gladly assist you with warranty claims. If your device ever fails, kindly contact the CShop support helpdesk for assistance via email:
support@cshop.co.za
with your invoice/order number, device serial number, and a simple description of the issue that you are facing. CShop support will contact the manufacturer to log a warranty claim before advising you on the necessary steps. Standard device warranties cover the failure of hardware components due to manufacturing defect and failure under normal operating conditions. Physical accidental damage or software related issues are not covered under warranty, however CShop support is still able to assist you at a quoted technical rate.
CShop outsources delivery using uAfrica as a fulfillment partner and Courier IT or The Courier Guy to delivery your order to your door in record breaking time. Delivery is charged at a flat fee of R100 for cart totals below R2000 and is free for cart totals above R2000. Your order will be picked and dispatched once payment for your order has been cleared and verified. Delivery ETA's are subject to courier's T's & C's. You will receive a tracking number via email once your order has been collected from the CShop dispatch centre. You can track your order by entering your order number on our website at the following page: https://cshop.co.za/a/track/ If you would like to collect your order from the CShop Johannesburg dispatch centre, please use the coupon code at checkout, "COLLECT" and we will contact you once your order is ready for collection. For any delivery queries, please contact the courier company with your tracking number, if you need further assistance kindly contact CShop support via WhatsApp (bottom left WA icon), email: support@cshop.co.za or telephone: 011 285 0975. A support consultant will then escalate with the third party service provider to help you find a resolution. CShop has maintained unparalleled delivery standards and will continue to improve on and provide you with speedy delivery of IT equipment.
CShop believes in promoting a safe, secure online shopping experience for your peace of mind. Payment processing is outsourced to PayFast as the trusted payment gateway provider and CShop teams work closely with Shopify Partners to improve your overall online experience right from your initial moment of purchasing realization. Receive a useful little gift when you order a laptop or desktop computer and pay for your order via EFT. PayFast accepts Visa and Mastercard credit/debit card payments and EFT payments are authenticated with FNB. If you need assistance with any payment queries, please email: finance@cshop.co.za