TOOL KIT 38 IN 1 MULTI PURPOSE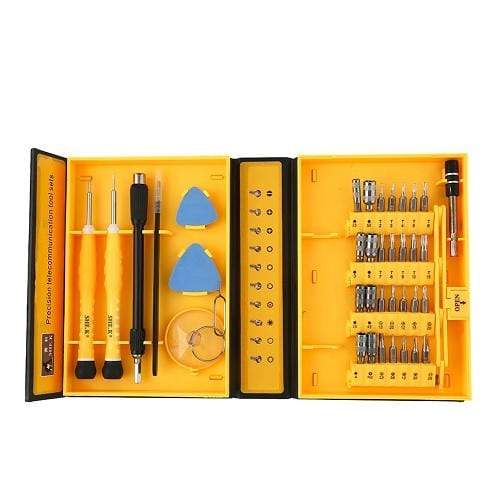 CR-V 38-IN-1 MULTI PURPOSE TOOL KIT
38 in 1 Precision Multipurpose Screwdriver Set Repair Tool Kit Fix For Cell Phone, IPhone For Notebook Hand Tools Sets
About this item
Completely re-engineered to provide all the tools that you need, and none that you don't, saving you money and you can doing more things
Includes the 28 bit driver kit made of the highest quality chrome-vanadium steel and veneered with soft plastics and shatter-resistant design
Using the highest quality materials and methods suitable for assemble, disassemble and repair all your electronic devices
Easy to carry and store at home and work, allow to take apart your devices without damaging it, convenient and safe
Top quality and high precision CR-V screw heads Practical and professional design
38 in 1 interchangeable hardware tools to disassemble and repair iPhone/mobile phone/laptop and other electronic product
You can choose the suitable tools freely according whatever you need.
150 x 108 x 39MM neatly organized and durable case
Keep it in the car, a drawer at home, or even throw it in your luggage when traveling so you are always ready for any electronic malfunction
ESD tweezer, SIM card ejector pin, LCD suction cup
Professional Hand Tools - High Quality
High Quality Precision Telecommunication Tools
Application: Repair your iPad, iPhone, PC, Watch, Samsung and other Smartphone Tablet Computer Electronic Devices
2 spudgers (pry pricks) included to easily pry open housings without damaging the tablet or phone cover
Total of 38 multifunctional finishing tools
Specially designed to include many tools used for repairing electronics
Easy to carry and store at home and work
Screw driver with STRONG magnetic tips and anti-slip
High quality steel material for all mobile phones, glasses, headphones, Ipad, tablet PCs, all precision tools
M2.5, M3.0, M3.5, M4.0, M4.5, M5.0, M5.5, PH2
T3, T4, T5, T6, T7,H0.9, H1.5, H2.0, H3.0
Precision screwdriver: 2PCS
Non-slip handle: 1PC
Taken the son: 1PC
Extension bar: 1PC
Various angle veer: 1PC
Pry bar: 2PCS
Ejection: 1PC
Suction cup: 1PC
Features1: Screwdrivers, tweezers, pry tool, suction cup, Pin, adjustable bar, TOTAL 38PCS Precision Tools Set
Features2: For repairing computer, watches, mobile phones, T.V., telephone, glass and video recorders
Features3: Portable, professional, muiti-funtional
Features4: It can be placed inside the batch head
Features5:Cap can be flexible rotation, improve work efficiency
TOOL KIT 38 IN 1 MULTI PURPOSE
This product is sold with care by CShop, supported by the South African IT channel standard OEM warranty terms and conditions. Warranty upgrades are available for certain products, and is highly recommended. You may request to purchase an extended warranty by contacting the CShop sales team on:
(+27) 011 285 0975.
In-warranty repairs are carried out by the vendor's authorized repair centre and CShop will gladly assist you with warranty claims. If your device ever fails, kindly contact the CShop support helpdesk for assistance via email:
support@cshop.co.za
with your invoice/order number, device serial number, and a simple description of the issue that you are facing. CShop support will contact the manufacturer to log a warranty claim before advising you on the necessary steps. Standard device warranties cover the failure of hardware components due to manufacturing defect and failure under normal operating conditions. Physical accidental damage or software related issues are not covered under warranty, however CShop support is still able to assist you at a quoted technical rate.
CShop outsources delivery using uAfrica as a fulfillment partner and Courier IT or The Courier Guy to delivery your order to your door in record breaking time. Delivery is charged at a flat fee of R100 for cart totals below R2000 and is free for cart totals above R2000. Your order will be picked and dispatched once payment for your order has been cleared and verified. Delivery ETA's are subject to courier's T's & C's. You will receive a tracking number via email once your order has been collected from the CShop dispatch centre. You can track your order by entering your order number on our website at the following page: https://cshop.co.za/a/track/ If you would like to collect your order from the CShop Johannesburg dispatch centre, please use the coupon code at checkout, "COLLECT" and we will contact you once your order is ready for collection. For any delivery queries, please contact the courier company with your tracking number, if you need further assistance kindly contact CShop support via WhatsApp (bottom left WA icon), email: support@cshop.co.za or telephone: 011 285 0975. A support consultant will then escalate with the third party service provider to help you find a resolution. CShop has maintained unparalleled delivery standards and will continue to improve on and provide you with speedy delivery of IT equipment.
CShop believes in promoting a safe, secure online shopping experience for your peace of mind. Payment processing is outsourced to PayFast as the trusted payment gateway provider and CShop teams work closely with Shopify Partners to improve your overall online experience right from your initial moment of purchasing realization. Receive a useful little gift when you order a laptop or desktop computer and pay for your order via EFT. PayFast accepts Visa and Mastercard credit/debit card payments and EFT payments are authenticated with FNB. If you need assistance with any payment queries, please email: finance@cshop.co.za